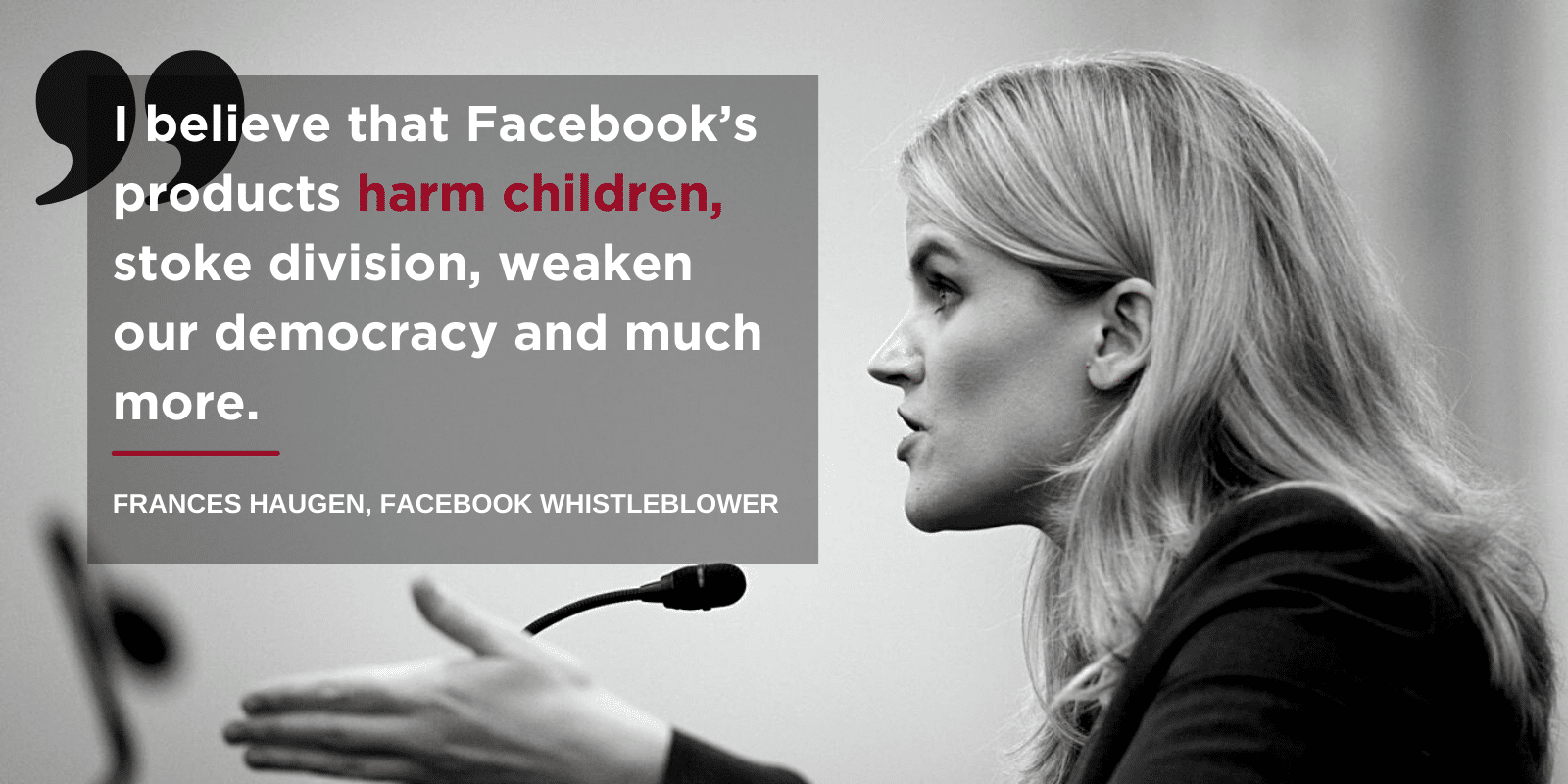 This week, Facebook whistleblower Frances Haugen confirmed what we here at Fairplay have been saying for years: Facebook's choice to put profits above all else is directly harming children.
On Tuesday, Ms. Haugen – who revealed her identity on 60 Minutes last Sunday – testified about the inner workings of Facebook for three hours before a Senate subcommittee. In her testimony, Ms. Haugen didn't mince words, calling Facebook's use of algorithmic recommendations to keep users online longer "disastrous" for children and for society at large.
What's more, she revealed that Facebook has had some of its research on Instagram's harms to teens for four years and taken no substantive action on it. Plus, Ms. Haugen stated that Facebook views "hooking kids" on its platforms as essential to the company's ability to grow and compete with TikTok.
The revelations brought forth by Ms. Haugen demand action – so many of the problems children face online are directly related to profit-driven design choices made by Facebook, Instagram, and other platforms like them. That's exactly why Fairplay is working tirelessly to make sure Facebook is held accountable for its harms to children and to create new rules to prevent all Big Tech behemoths from putting profits ahead of kids' wellbeing.
Here's just some of what we're doing to protect kids from Facebook's greed:
Last week we got Facebook to pause its planned Instagram for kids. Now, we're ramping up our campaign to ensure that this pause is permanent.
Working with our allies in Congress to pass legislation that will protect kids in the digital world.
Sharing our expertise in major media outlets to educate the public and lawmakers on the harms created by Big Tech's unethical business model.
Building new coalitions to demand Facebook make immediate and major changes to protect the kids and teens that use its platforms.
In the coming weeks and months, we'll be sending updates on how you can help our growing movement. In the meantime, we invite you to explore our summaries of the Facebook research published by The Wall Street Journal and to share this essential information with your networks. And if you haven't already,  be sure to sign our petition against Instagram Youth!