When our kids use Instagram or TikTok, we often assume that their experiences with the apps are the same regardless of where they live. But, these platforms can actually put kids at even more risk simply based on their geographic location. For example, a teen using TikTok in the UK is much less likely to encounter data surveillance, sexual predation, in appropriate content, and other risky activities than a teen using the same app in Brazil or the US. Our research shows that children around the world have inequitable access to privacy protections and platform terms and conditions on TikTok, WhatsApp, and Instagram.
Our new report, Global Platforms, Partial Protections, documents how a patchwork of international regulations has created a digital environment in which children from the Global South and elsewhere are exposed to far more manipulative design abuses than children in Europe.
The report highlights a number of troubling disparities in platform features for young users from 14 different countries including Brazil, Indonesia, the United States, and the United Kingdom. TikTok, for example, offers additional protections for European minors in order to provide "an age-appropriate experience." Elsewhere, however, young users under 18 are not afforded the same protections, calling into question TikTok's willingness to provide age-inappropriate design to young people in other countries. Each platform also had a range of different minimum age requirements depending on the country despite offering the same services worldwide.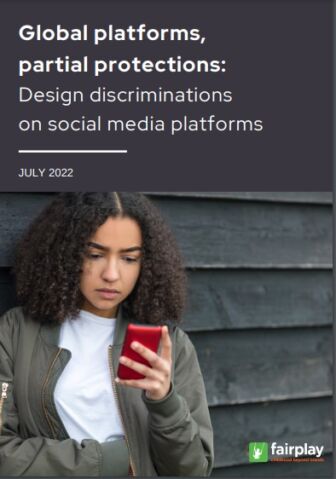 At Fairplay, we believe that every child, everywhere deserves protections online. So, together with 38 other advocacy organizations from around the world, we sent a letter today urging TikTok CEO Shou Zi Chew to address the design discriminations highlighted in the report.