The only federal law to protect children's privacy online is under attack, and we need your help to save it.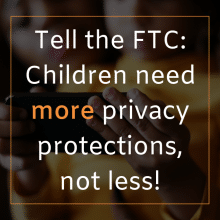 The Children's Online Privacy Protection Act (COPPA) empowers parents to protect their children's privacy, restricts what data can be collected from kids, and limits how that data can be used. In September, acting on a complaint filed by CCFC, the Federal Trade Commission levied a record-breaking fine on Google for violating COPPA, and forced them to make significant changes to YouTube's data collection and marketing practices.
Now, Google and other industry players want to weaken COPPA, so that they can keep collecting kids' sensitive data for manipulative personalized marketing.
Tell the FTC: Put kids' wellbeing ahead of Big Tech's profits!
Unfortunately, there are signs the FTC is bowing to the pressure – they've called for an early review of COPPA's effectiveness, years before such a review was required by law. One commissioner even described the review as "taking care of children and data both," as though collecting data for marketers is just as important as children's wellbeing!
CCFC is leading the charge to not only save COPPA, but strengthen it – and we need you to join us. Along with our allies at the Center for Digital Democracy and the Institute for Public Representation at Georgetown Law, we'll be filing extensive comments with the FTC, explaining why the tech industry's desire to "innovate" – that is, to make more money – does not outweigh kids' right to privacy.
Now, the FTC needs to hear from you. Comments – including this one – are due by December 9. Big tech companies are already mobilizing their lobbyists and allies to significantly weaken COPPA. Sign our petition and tell the FTC: Kids need more privacy protections, not less!