by Alyssa Loberti
Alyssa Loberti MS, CCC-SLP (she/her/hers), is an early interventionist and pediatric SLP in Providence, Rhode Island, for Family Service of Rhode Island and for Small Steps Therapy, LLC, a private practice. [email protected] and [email protected]. This blog was originally published on AshaWire.
How does excessive screen time affect the development of young children?
Such questions have troubled many caregivers since the introduction of the smartphone more than 15 years ago turned a once-shared video experience—watching TV—into primarily solitary experience. On the flip side, manufacturers often extol the "educational" value of their apps, devices, and so-called learning systems—leaving many caregivers to feel their children will fall behind if they don't provide these materials.
Many of us working with children 0–5 often see our clients far exceeding recommended screen time guidelines set by the American Academy of Pediatrics and World Health Organization. At the same time, we are seeing more children with language delays, social communication challenges, and behavioral or emotional difficulties over the past few years.
Editor's note: As always, children who use low- and high-tech augmentative and alternative communication devices (AAC) should continue to use them at all times—and in an interactive way.
As a speech-language pathologist who works in early intervention, I work to educate caregivers and educators on how children develop, and on factors that can interfere with development—such as excessive screen time that often replaces face-to-face interactions, physical activity, and imaginative play. That's what drew me to get involved with the Screen Time Action Network at Fairplay.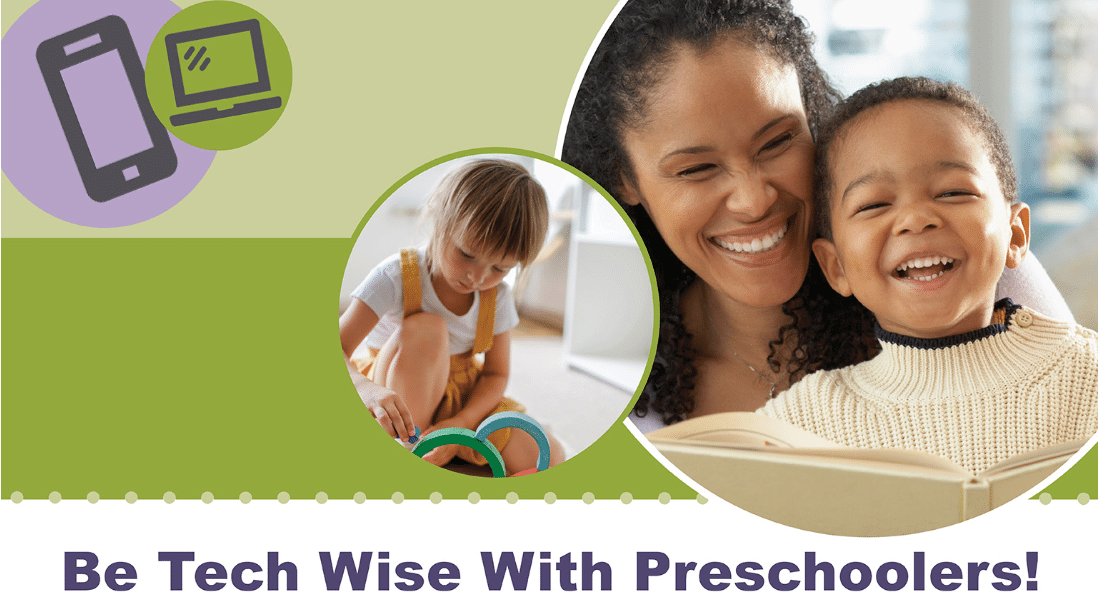 ASHA/Fairplay resources
I discovered Fairplay after seeing an ad for the ASHA/Fairplay "Be Tech Wise With Baby!" resource. I reached out to Fairplay, got involved in its Early Childhood Work Group, and participated in developing the latest ASHA/Fairplay resource: "Be Tech Wise With Preschoolers!"
Designed for families with children ages 3 to 5 years, "Be Tech Wise With Preschoolers!" covers ways that families can support their child's communication, social-emotional, and learning skills—as well as tips for achieving healthy screen time habits—at a critical developmental point.
As a pediatric SLP, I use all of the "Be Tech Wise" resources—intended to help caregivers support young children's communication and development during daily routines—in both early intervention and outpatient/private practice settings. I make them part of our intake packet, share them directly with families, and use the different points in our sessions. We also put the printed resources in the waiting room and offer them as take-home materials. They can also be shared with local pediatrician offices, libraries, play centers/daycares, and other places frequented by families with young children.
Coaching caregivers
I often discuss screen time with families as part of my coaching efforts. For example, a new Screen Aware Early Childhood Action Kit offers guidance—in the form of fact and corresponding action sheets—for prioritizing healthy child development in a screen-saturated world, as well as resources for home or classroom. Ten kits cover topics ranging from learning and development to advertising and media literacy.
Screen time tips for families
Here are some additional ideas to share with families about reducing recreational screen time:
Keep the TV off as your child plays. Studies show parents and caregivers speak fewer words when the TV is on—even in the background. It also distracts kids from their main job in early life: playing.
Set clear rules about places and times to use screens. Use pictures or timers to help children understand the rules. These might include daily time limits or "screen-free" zones in the home—such as the playroom or living room—or screen-free times of day, such as meals or before bedtime.
Delay giving your child their own device. Tech-free toys such as blocks, puppets, dolls, vehicles, and balls can keep your child's attention for hours and are more beneficial for all areas of their development.
Don't use screens to calm your child. Handing a child a tablet or phone can make life easier in the moment but can create much bigger challenges—later in the day and in life—when taken away. Letting children experience momentary periods of boredom, frustration, or sadness can help them learn to deal with these emotions productively.
Co-view when using screens. Watch what your child is watching or play an on-screen game with them. Ask questions about what's happening or what might happen next. Pause the screen and talk about the still image.
Model healthy screen time habits. Set a good example and follow the rules you set in place for your child. Try putting devices to the side while talking to your child so you can be fully present as you communicate.