For more than 20 years, the Children's Online Privacy Protection Act (COPPA) has been the only federal law stopping tech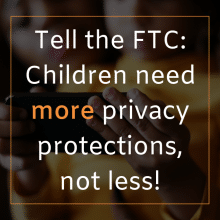 companies from exploiting kids' data for profit. Now, Google and other tech giants are working to weaken COPPA's protections – and we need your help to stop them.
Sign onto our comments telling the Federal Trade Commission that any changes to COPPA should be to strengthen – not weaken – privacy protections for children.
After you've signed, submit your own comment to the FTC telling them why children's privacy protections matter to you and your family.
You can submit your comments to the FTC online here (look for the "comment now!" button in the top right). Comments must be submitted by December 9, 2019.
You don't need to be a legal scholar to submit comments – you can just say what you think! Start with a sentence or two about who you are and why you're concerned before moving to what you'd like the FTC to consider. Here are some things CCFC and our allies are asking for that you might want to echo:
The FTC should subpoena leading media companies and marketers to better understand what data is collected from children and how it's used before proposing any new rules.
Parents should have the right to consent or refuse to have data collected on their children by edtech products used in schools.
General audience platforms like YouTube have a responsibility to follow the law and exclude children from any data collection and personalized marketing that occurs on their site.
You can also speak more generally about your concerns about children being surveilled and tracked by marketers when playing games or watching videos online.
Once you've submitted your comments, ask others to do the same! Right now, Big Tech companies are lobbying hard to convince the FTC that an internet filled with creepy ads is OK for kids. The FTC needs to hear from people like you, who understand that kids deserve to have their privacy and wellbeing protected when they're online.
Take the future of the internet into your own hands, and tell the FTC: kids need stronger privacy protections!