This week, Fairplay alongside our friends at Truth in Advertising Inc, the Center for Digital Democracy and the National Association of Consumer Advocates sent a letter to the Children's Advertising Review Unit (CARU), asking them to audit Walmart's Universe of Play game, which is part of Roblox. The game allows kids to play with the "year's best toys," and make a "wish list" of toys that can then be purchased at Walmart. While children will find a multitude of toys advertised in this universe, what they (and their parents) will not find are clear and conspicuous disclosures informing them that they are playing in an advergame.
In the game, children walk along until they find gift boxes. They are invited to open the gift box…

And once they click, they are immediately shown an ad for a toy sold at Walmart.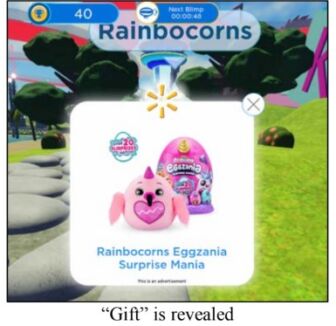 This Rainbocorns toy is geared at children ages 3 and up. If you squint really hard, you can see a barely legible statement that says, "This is an advertisement."
Other ads appear like the one to the right, where there's a barely readable statement at the bottom of signs throughout the Universe of Play world that says its an ad.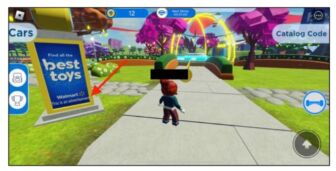 As we warn in the letter, Walmart completely blurs the distinction between advertising content and organic content, and simultaneously fails to provide clear or conspicuous disclosures that Universe of Play (or content within the virtual world) are ads. In addition, as kids' avatars walk through the game, they are manipulated into opening additional undisclosed advertisements disguised as surprise wrapped gifts.
To make matters worse, Walmart is using the CARU COPPA Safe Harbor Program seal to convey the false message that its children's advergame is not only in compliance with COPPA (Children's Online Privacy Protection Act), but CARU's Advertising Guidelines and truth-in-advertising laws, as well as a shield against enforcement action. Yet, it's easy to see that Walmart's quest for profit exploits kids instead of protecting them.
Read more about our efforts to hold Walmart accountable in Tech Crunch and see the full letter with more examples here.
*Screenshots were supplied by the letter sent to CARU.